4 Questions to Ask a Chiropractor
Chiropractors evaluate and treat patients' neuromusculoskeletal system, which includes nerves, bones, muscles, ligaments, and tendons. Get trusted and expert diagnosis and treatment at Integral Med. For more information, contact us today or schedule an appointment online. We are conveniently located at 340 W Butterfield Rd Suite 3C, Elmhurst, IL 60126.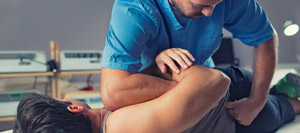 Table of Contents:
What questions should I ask my chiropractor?
What should I do before seeing a chiropractor?
Are chiropractor adjustments good for me?
What are the advantages of chiropractic therapy?
What questions should I ask my chiropractor?


Preparing ahead of a chiropractor appointment and asking appropriate questions helps ensure patients get the treatment they desire, and the answers they need, and provides the opportunity to be involved with their health care. Patients may wish to jot down a list of questions ahead of a chiropractic visit to ensure they can make informed decisions and get the specific treatment they desire.

Patients may wish to ask how chiropractic treatment will help them, how frequently their sessions should occur, the types of diagnostic tests needed, the potential need for additional medical care, the length of sessions, and the specialty of their chiropractor as it pertains to their needs. Patients should also be sure to ask about any aches or pains, or if they have noticed irregularities to ensure they receive care that is as comprehensive, customized, and accurate as possible.

In addition to their chiropractic treatment, individuals may wish to inquire about anything they can do on their own like stretches, light exercises, or lifestyle changes, to improve their condition and serve as preventive measures for other issues. Individuals are encouraged to ask about any area of their treatment plan they are unclear on to ensure it is followed. 
What should I do before seeing a chiropractor?


Prior to scheduling an appointment with a chiropractor, patients should determine if they require results from previous tests like MRI scans, CT scans, or X-rays. Generally, individuals should collect any medical records relevant to the problem they are currently experiencing. In addition to this, patients should be prepared to provide the chiropractor with a full medical history. Patients with insurance should be sure to bring any paperwork required as well as identification. Patients who are unsure about how their insurance coverage deals with chiropractic care should call ahead to inquire about potential coverage and deductibles.

For clients without insurance coverage, checking into any current offers or promotions at the clinic is beneficial.

Patients should dress for comfort when visiting a chiropractic clinic.

It is also beneficial for patients to prepare a list of questions and be prepared to express their goals and expectations. Patients should also be prepared for adjustments on their first visit. 
Are chiropractor adjustments good for me?


Chiropractic adjustments can be effective treatments for individuals of all ages including adults and children. Most often, it is used on individuals in their mid-forties to mid-sixties.

In order for a patient to ensure they are an ideal candidate for chiropractic care, they should receive a screening prior to beginning. If chiropractic care is inappropriate for a patient's specific condition, they will be referred to another healthcare provider for treatment.
What are the advantages of chiropractic therapy?


Chiropractic adjustments are therapeutic treatments also called joint manipulation or spinal manipulation. It is performed by a licensed chiropractor who uses a particular instrument or their hands to adjust and manipulate joints. Many chiropractic adjustments can correct body alignment and physical functions as well as reduce pain.

Chiropractic treatment is often used to complement additional medical care. Chiropractic care is most often sought to mitigate musculoskeletal pain and promote recovery in spinal health. Still, it is important to note that good spinal health promotes overall health, and individuals do not need to be experiencing health problems or injuries to benefit from chiropractic care.

Integral Med offers the most advanced chiropractic care and uses holistic practices to help patients live the life of their dreams. Talk to us today so that we can help you start living life again. We serve patients from Elmhurst IL, Westchester IL, Addison IL, Carol Stream IL, Franklin Park IL, Berwyn IL, Bloomingdale IL, and nearby areas!