Thermography Services in Elmhurst IL
Thermography can aid practitioners in the early detection of conditions to allow for early interventions in potentially serious conditions. Thermography services are available at Integral Med. To learn more about the integrative services we offer, contact us today for more information or schedule an appointment online. We are conveniently located at 340 W Butterfield Rd Suite 3C, Elmhurst, IL 60126.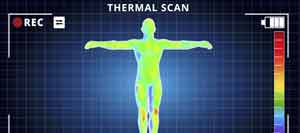 Table of Contents:
What is thermography?
What is thermography used for?
What disease can thermography detect?
What are the benefits of thermography?
How often should thermography be done?
What is thermography?


Thermal imaging, also called infrared thermography or DITI, measures your body temperature and blood flow using images captured by a camera. By measuring a person's body temperature and blood flow, thermography scans look for dysfunction and other precursors to disease.
 
There are many aspects of infrared thermography that make it different from conventional assessment tools, including when it can be applied. A thermography scan can detect abnormalities and dysfunction far earlier than other tests, because of the way it works.

Infrared thermography detects cancer cells at the size of a grain of rice, or around two years old, unlike a mammogram, which doesn't detect it for eight years (which explains why breast thermography is one of the most common uses of infrared thermography). The use of infrared thermography allows new pathways of treatment to be explored earlier in the disease process, which would not have been available at a later point in time.
What is thermography used for?


By using very sensitive equipment, thermography assesses blood flow patterns, inflammation, and function. By measuring infrared radiation emitted by the body surface, it is a non-invasive, non-contact method of recording body temperature. This method is passive, painless, fast, and low-cost.
 
Thermography is a noninvasive clinical imaging method. By monitoring and examining your body's temperature, thermography can provide insight into your overall health. For instance, diseases and injuries can be included in this category. Thermography records the temperature pattern of your body using a digital infrared camera. There may be abnormalities in this "blueprint" that indicate inflammation. The onset of disease is always preceded by inflammation.
What disease can thermography detect?


Inflammation can lead to disease processes if left untreated. Keeping inflammation under control is important since it is often a sign of degenerative diseases and a precursor to them. Inflammation has been linked to cancer, arthritis, heart disease, diabetes, fibromyalgia, thyroid problems, and countless other chronic health problems. Breast cancer is one of the most common conditions thermography is used to detect.

Inflammation can be detected early with thermography. It's even possible to detect diseases before they manifest themselves! By doing this, you are able to reduce inflammation by making any necessary lifestyle changes. Furthermore, this type of change assists in preventing underlying health conditions from developing fully.
 
It is important to understand that inflammation can refer to a variety of diseases. Due to its non-radiation, non-compression, and non-touch nature, thermography can screen for a wide range of concerns.
What are the benefits of thermography?


Infrared thermography tests have the advantage of scanning large areas quickly and without destroying anything during testing, which makes them superior to destructive testing methods. The result is a significant reduction in time, people, work, and machinery.

Furthermore, infrared thermography has other benefits over other non-destructive techniques. Using an infrared thermographic device is risk-free, since it emits no radiation; it only records the infrared radiation emitted from the material being evaluated. Another benefit of infrared thermography, it is a technique of area investigation, unlike most other non-destructive methods, which are either point tests or line tests. It is also possible to perform infrared thermographic testing at any time of the day or night.
How often should thermography be done?


Thermography screenings should begin at age 20 for women. Thermography has proven to be an effective risk assessment tool for women from ages 20 to 39 because most women do not have a mammogram until they are 40 years old.
 
Breast cancer is on the rise among women under the age of 40. At age 20, we can establish a very normal baseline for future thermograms by beginning the screening process. If your "thermal fingerprint" changes, it may be your first clue that something is wrong since thermography looks at how your breast functions.
 
Thermography services are available at Integral Med. Call or book an appointment with Integral Med to find out how functional medicine can help you experience its many benefits. We serve patients from Elmhurst IL, Westchester IL, Addison IL, Carol Stream IL, Franklin Park IL, Berwyn IL, Bloomingdale IL and nearby areas!